Change for a Business Organization
Change is an everlasting constant for businesses across the globe. Change can simply mean a different way of doing things, or doing something different. Any kind of organizational change clearly indicates a change or a shift in some of these critical factors – Business Vision, Business Objective, Priorities, and Strategy.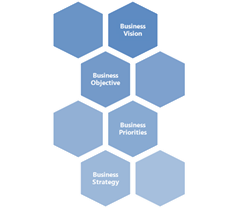 Changes related to the above or any another variation of change is a manifestation of numerous variables. Some of these variables could be business environment, state of business, availability of resources, state of business finances, emerging or declining opportunities, and new possibilities.
If the change is a planned action or a planned strategy, for some well thought out and desired outcomes, it is essential that the business is well aligned to the change. Alignment of business is about alignment of a business's people – process – and strategy.
And the People aspect is clearly a crucial aspect, as the people who comprise the business are the ones who are going to directly impact the working of the business, and thereby the outcomes and results.
Human Resource Priorities for Business Leadership
In a scenario where in an organization has undergone changes, based on renewed business vision and renewed business priorities for future, it is imperative that that the leadership team & management take a closer look at these aspects:
Strategic HR priorities.
Alignment of business teams with business vision & strategy.
People processes, that supports strategic HR priorities
Strategic HR priorities:
This is the road map that defines the people strategy for a business. This is what defines the organizational focus on people front, which will contribute to the success and growth of the organization. The strategic priorities on people front have to be in tune with the renewed vision and business growth objectives.
Alignment:
Alignment of Business Team with Organizational Vision & Growth Priorities. Alignment is the key; Business teams should know how they add value. They should know that they are responsible for organizational growth. They should have a clear understanding of organizational vision and strategy for growth. They should have a clear understanding of their roles.
People Processes:
Business focused people processes are going to be integral to the business imperative that emerges in the changed scenario. These processes are meant to enable people and support the teams towards ensuring that they are able to add value to the business.
© Khedge Business Consulting Pvt Ltd.